Posted by Shayla LaFreniere on Monday, August 8, 2013.
So as many of you know, Christopher and I run a sweet little Etsy stationery shop, called laLa Grace. I hand draw all the illustrations and Christopher helps me manage the technical and business stuff.
We just opened up shop at the end of January and things are going really well; we've even recently started exploring Wholesale orders and I'm happy to announce that you can now purchase laLa Grace at Le Village Marché boutique in Arlington, VA. The owner Angela is so lovely and we are just so thrilled to have our cards sold in such a gorgeous shop!
All the personal things we've had going on have set me a bit behind on building our wholesale stockist but I'm slowly getting back into the swing of things so you'll definitely be hearing more about where to buy laLa Grace throughout the U.S. and the World!
Luckily Le Village Marché is located just 45 minutes from us so we were able to stop by the shop last weekend and snap a few photos of this beautiful boutique and our cards on display; it was really exciting to say the least! 🙂
My sweet and very handsome husband checking out a few of our cards.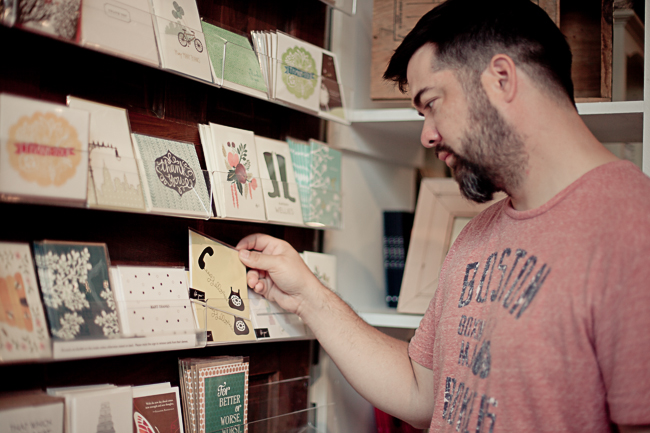 The boutique, Le Village Marché, (the village market) is located just outside Washington, D.C., in the heart of Arlington, Virginia's revitalized Shirlington Village. A unique blend of the old and the new, the rustic and the refined, Angela has created an impressive collection of vintage home décor and chic accessories that reflect some of her inspiration of Paris. The store opened March 2007.
{ Angel Y. | Static-Romance } August 8, 2013 at 2:11 PM
It must be super exciting to see your cards in an actual storefront. They fit right into the shop's merchandise it seems. Glad to see laLa Grace picking up. :)
{ Latrina M. } August 8, 2013 at 5:40 PM
Oh my gosh. That's so exciting! I am truly happy and so proud of you. :) Your cards look absolutely perfect on those walls! <3